At approximately 8:20 AM on Sunday, September 25, 2016 a piece of me died. I sat in my office sipping coffee trying to finish an article for the blog, The Randolph Review. My deep concentrated thoughts suddenly appeared fuzzy and disoriented on the page when a voice on the TV behind me, mentioned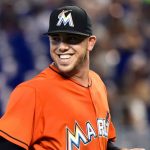 José Fernandez had died in a boating accident. I spun my chair around and stared into the screen, confused in disbelief. When a tear splattered on my arm and the screen went fuzzy, I knew it was real and a part of me died with José. His light shined the brightest among the glitter of South Beach.
For you see, Fernandez was a friend of mine and now I would never see him again. But I do remember his infectious smile, the bear hugs he gave his teammates and the electricity he created by virtue of his presence. His family, the Marlins, South Florida and I, had lost an icon, someone we could admire and were proud that he was the face of our community. He was one of those people that seem to up lift everything he touched and everyone around him. If you ever had a family member, teammate or friend whose presence altered the atmosphere, your environment and enhanced your existence, then you could relate to the personality of Fernandez. When people like him are no longer among us, we feel the loss, a sense of emptiness that even time may not cure. We will always have a missing piece from our soul. And it's hard to imagine that gut wrenching loss for his family and especially his girlfriend who is pregnant with José's first child.
José failed three times to defect to the United States until he was successful in 2008. On one journey, he had to dive into open water and save his mother from drowning. Did I mention that José Fernandez was a baseball player? He went to high school in Tampa Florida and was drafted in the first round of the 2011 major-league draft by the Florida Marlins. His major-league debut was April 7, 2013 and at that moment every fan knew he was something special. He was the embodiment of the American spirit, an immigrant trying to escape tyranny and injustice. On many occasions he noted how proud he was to become an American citizen in 2015.
I must admit that I never met José but like many South Floridians have an emotional attachment to him. I made a special effort to watch specifically those games where he pitched but the cameras always found Fernandez in the dugout even on his off days. Can any one of you in South Florida remove the image of his smile from your mind? And lastly, I should note that he was not only a baseball player – but the rookie of the year, two time All-Star, and one of the top five pitchers in the major-leagues according to many experts.
The next time you have one of those moments where the world is against you and you feel like there is no hope in your life, think of José and his struggle to touch the hand of freedom. Just maybe your moment will quickly fade.
For the moment the glitter on South Beach has dimmed.
R.J. Intindola